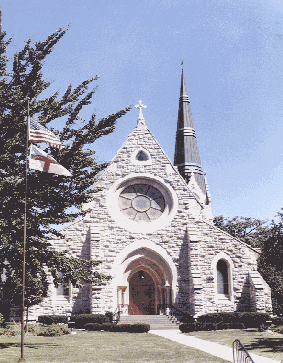 Trinity Episcopal Cathedral is the historic cathedral of the Episcopal Diocese of Iowa. As Episcopalians, we are part of Christ's One, Holy, Catholic and Apostolic Church. Trinity Cathedral is a Eucharist-centered parish. Our ministry begins at the altar, where we gather to celebrate, through Holy Communion, God's love, grace and mercy in our lives. Our liturgy reflects traditional Anglican practices and theology, and our music program underscores the beauty, majesty and joy of this ancient liturgy.
Building of the cathedral was spearheaded by The Right Reverend Henry Washington Lee, first Episcopal Bishop of Iowa. The cornerstone was laid in 1867, and the building was completed in 1873, when the structure was consecrated as Grace Cathedral. It was renamed Trinity Cathedral in 1910, when Grace Cathedral and Trinity Parish united.
Trinity Episcopal Cathedral has been called one of the finest gems of English Gothic architecture in the entire country. It is constructed of native Iowa limestone, trimmed in Indiana limestone, adorned by wrought iron Gothic ornamentation and highlighted by 19th century stained glass windows.
The 131 ft. tall spire was added in 1998.